Current and past issues of our newsletters.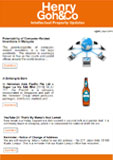 AUGUST 2017 ISSUE:
Caesar ≈ Caesarstone?
In the case of Ceramiche Caesar Spa v Caesarstone Sdot-Yam Ltd [2017] SGCA 30, the Singapore Court of Appeal had to consider, inter alia, whether Caesarstone Sdot-Yam Ltd.'s ("Caesarstone") trademark "CAESARSTONE" in Class 19 was similar to Ceramiche Caesar SpA's ("Ceramiche") "CAESAR" trademark registered earlier in Class 19 and decide if there exists a likelihood of confusion on the part of the public if "CAESARSTONE" was allowed to be registered. ... more
The Tale of the Tiger Stripes
One of the requirements for a trademark to be registered in Malaysia is that the mark or device has to be used in the course of trade. This raises the issue as to what would constitute 'in the course of trade'. An elucidation on its definition was raised in the case of Mesuma Sports Sdn Bhd v Majlis Sukan Negara, Malaysia [2015] 6 MLJ 465. The matter has since been conclusively decided at the Federal Court level in 2015 and therefore binds future cases with similar legal issues. ... more
The Mind-Boggling Interplay of Copyright and Industrial Design Law
While the courts of the Malaysian capital Kuala Lumpur remain the centre of gravity for IP disputes, it is encouraging to note growth in the number and scope of cases being decided in other states across the country. A recently reported decision of the Ipoh High Court makes for an interesting example. ... more
Tempest in a Teacup or Bubble Tea Firestorm?
Not many legal disputes capture the imagination of Malaysians like a good and scintillating food feud. We are referring to none other than the CHATIME bubble tea tug-of-war that has played out in the media extensively in the last six months. ... more