Current and past issues of our newsletters.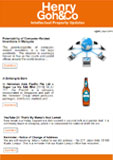 AUGUST 2015 ISSUE:
Light Up or Snuff Out
The Tobacco Plain Packaging Act 2011 in Australia has set in motion a global debate. The Australian Act mandates that the design of tobacco products and their packaging be standardized so that only the brand name can be retained in a standard typeface, colour and size i.e. in plain white font against a brown background. Unsurprisingly, the passing of the said Act was met with strong resistance from the tobacco product industry, both Down Under and abroad. Tobacco corporate giants raised a legal challenge before the Australian High Court but it was decided in 2012 that such anti-tobacco legislation was not unconstitutional. ... more
Polo Saga - Round 1
The Opponent, Polo/Lauren Company, L.P., filed an opposition in the Intellectual Property Office of Singapore against the trade mark application made by United States Polo Association in Class 09 on 17 October 2012 for a "double-polo-playing-horsemen-device" with the text "USPA" ("the Application Mark"), by relying inter alia on Section 7(6) [application made in bad faith] and Section 8(2)(b) [similarity to an earlier registered trade mark that is to be registered for goods and services identical with or similar to those for which the earlier trade mark is protected and there exists a likelihood of confusion] of the Singapore Trade Marks Act ("STMA"). The Opponent relied on their prior rights of a "single-polo-playing-horseman-device" mark which was registered in Class 09 on 14 May 1996. ... more
The Budapest Treaty – Finally Coming To Malaysia ?
There are presently 79 countries that are party to the Budapest Treaty (amended 26 September 1980) on the International Recognition of the Deposit of Microorganisms for the Purposes of Patent Procedure. Accession to the Treaty is open to member states of the Paris Convention. ... more