Current and past issues of our newsletters.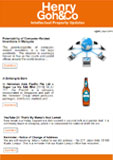 Meeting with representatives from Shimizu Corporation and Shiga International Patent Office
We were very pleased to welcome and meet with representatives Mr. Kei Yakushiji and Ms. Yumiko Takano from Shimizu Corporation and Mr. Kazuo Watanabe from Shiga International Patent Office on 20 October 2015. The meeting focused on pertinent issues relating to Singapore patents prosecution and other topics of general interest.