Current and past issues of our newsletters.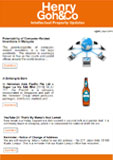 Cindy Loke
Senior Trade Mark Executive

Cindy joined Henry Goh's Kuala Lumpur office upon graduating with a degree in Economics from University Putra Malaysia in 2003 and transferred to the Singapore office in 2006 where she took charge of the trade mark team. As a Senior Trade Mark Executive, she leads the support team in assisting Henry Goh's clients in all aspects of the trade mark application process. This includes managing enquiries, formality and prosecution work as well as overseeing administration matters of the Trade Mark Department.